Some time back in 2010 Sandy Pack and Judie Tartaglia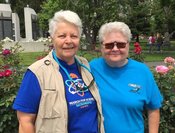 (fondly known to us all as Tart) learned to play a game called Pickleball with some folks from Lake Wildwood (Penn Valley, CA). They instantly knew that there was a place for the game in Grass Valley. So in early 2011 Sandy submitted a request to the City of Grass Valley to dual-stripe a tennis court for pickleball play in DeVere Mautino Park. When that request was rejected by the city folks, Club Sierra (at today's South Yuba Club location), who shared Tart and Sandy's vision, striped a court and let the group play for free until May 2012. At this time the Grass Valley Pickleball Club (GVPC) was created.
In May 2012, Club Sierra decided to charge pickleball players $5 per session and it was again time to find some new home courts for outdoor play. Once more the GVPC reps approached the Grass Valley City Parks and Recreation Commission to get lines painted on an existing tennis court - and this time they prevailed. Lines for four pickleball courts were painted on a single tennis court in DeVere Mautino Park in October 2012. A USAPA grant for 2 nets was received in November 2012 and the GVPC finally had a home base for regular outdoor play!
GVPC Club members played outdoors at DeVere Mautino for 6 years. The club representatives continued to make various requests and offers of partnership (payment and upkeep) to the City and the Parks and Recreation Commission to create permanent courts. Finally in May 2015, the City authorized the development of dedicated permanent pickleball courts at DeVere Mautino Park. In November 2016 the City changed the proposed location of the courts to Memorial Park, where activity and lights are permitted until 10 PM.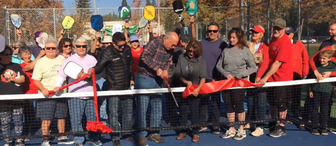 After some initial site conflict, the new courts were contracted to be built at their current location. While the club was waiting for construction to finish, our local veterans kindly offered to stripe 3 pickleball courts in the Grass Valley Veterans Memorial Building auditorium for our use.  Indoor play began in the spring of 2018 and in October 2018, Grass Valley's Pickleball Courts at Memorial Park were finally open for play!